Coronavirus Outbreak Impact On Economy
As far as India's economy is concerned, the impact of Coronavirus Outbreak has been monumental. The sectors which got mostly affected due to Covid-19 are medium and small scale enterprises.
These are sectors, which are considered to be the backbone of Indian economy, and the fact that all of them have closed down, come with far reaching ramification.
According to the economists, every single major crisis has its impact on the GDP of the country and creates a major obstacle as far as revenue generation is concerned. This type of a situation, invariably leads towards a situation which is marked by the expansion of fiscal deficit.
Below is the issue which is impacted on small businesses in India-
Employees' salaries
Interest on business and home loans
Loss of business profit
Poor cash flow
USA has announced a relief package worth $2 trillion for the business sectors which got affected due to Coronavirus Outbreak. UK has also taken commendable measures towards providing some relief to the business sectors which have suffered due to the lockdown caused by corona virus.
World Economy is Falling
it's worse than you think!
According to the experts, the Covid-19 pandemic would cost $2.7 trillion dollars to the global economy.
It is but obvious that a complete lockdown in most of the countries will lead towards the downfall of global economy. All the major powers of the world including USA, Germany, Italy, China, India and others, are experiencing a massive downslide, as far as their economic stability and growth is concerned.
The fact that India is going to lose Rs 8 lakh crore of GDP, would give you some idea about corona virus impact on Indian economy. This will also offer you a clear indication about Coronavirus Outbreak impact on business at a global scale.
It Will Take Some Time For The Business To Normalize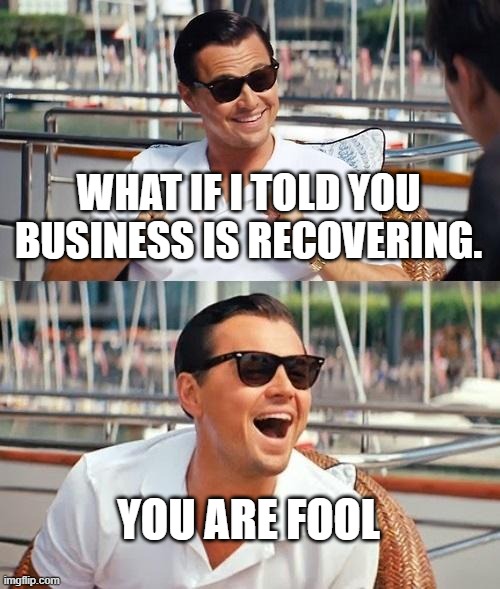 In China, the spread of this virus has slowed down and the numbers have dropped considerably; however, it would take at least a year for the businesses to recover, as they have to make up for the huge amount of loss which they had to sustain during the period of lock down.
The example of China would give you slight idea on how business in all around world should operate. In China, due to corona, there was a drop in retail sales by 20.5% and the rate of unemployment rose to 6.2 in the month of February.
Giants like Apple, were forced to shut down their stores in China, during this period, which resulted in lesser generation if income and reduced profit.
Few companies could afford to pay their employees during the lockdown period; however, not all are financially stable enough to offer this luxury.
You would be surprised to learn that the global travel industry is going to suffer a jaw dropping loss of $ 820 billion!
Successful Startup Founded During The Recession 2008
Be fearful when others are greedy and greedy when others are fearful
It is rightly said by the American business magnate, investor, and philanthropist Warren Buffet.
With a hard hit of 2008 recession (Video), a new wave of startup has emerged.
Big startup like Uber and Airbnb, and venture capital firm Andreessen Horowitz has been started in the middle or abrupt aftermath of the World Financial Crisis of 2007-2009. So it's the biggest opportunity to start something new and build something that no one can imagine. Grab the opportunity.
As said by Albert Einstein,
"In the middle of difficulty lies opportunity."
Below is some of the reputed startup formed during 2008 recession are-
WhatsApp, 2009
Venmo, 2009
Groupon, 2008
Instagram, 2010'
Uber, 2009
Pinterest, 2010
Slack, 2009
Square, 2009
Which Industries Are Mostly Affected During Coronavirus Outbreak?
Here are 12 industries failing because of the Coronavirus Outbreak and for wise people, world of opportunities waits:-
Malls and High Streets
Restaurants and Bars
Music Festivals
Sports Events
Beauty Service
Gyms and Fitness Industry
Wedding Industry
Cinema's, Theatres, Museums and Art Gallery
Airliness and Travel Industry
Cruise Liner Industry
Big factories and Industries
Hotel Industry
Which Industries Are Booming During Coronavirus Economy?
Now many people losing their work, there are parts of economy that are giving us glimmer of hopes in devastating time. Below are top 16 Industries which are thriving because of Coronavirus Outbreak:-
Masks and Medical Supplies
Cleaning Services
Drones
Grocery Stores Liquor
Drive-In Movie Theatres
Shopping Delivery services
Board Games and Puzzles Makers
Fitness Equipment Industry
Video Conference and Document Handling
Online Games
Toilet Paper, Soap Sales and Hand Sanitizer
Remote Doctor's service
Telecommunications
Space travel to mars
Video Content Creators
Ventilators
Digital Marketing – A Way To Recover Losses
How Does Digital Marketing Help A Business?
According to the experts, in the days to come, digital marketing is going to play a very important role for the businesses. Many companies have been following only the conventional marketing methods and were not quite inclined towards Digital.
They would realize the importance of social media, SEO, content marketing and various other mechanisms as far as digital marketing is concerned.
When it comes to online marketing, it always has been a cost effective way to promote your business. Now that the economy is facing serious challenges, you would like to ensure maximum Return on Input, with minimum investment.
If you are wondering how digital marketing helps a business; this is where the concept of Digital Marketing can prove to be so useful for you.
In the times of Covid-19 economic crisis, an effective digital marketing strategy will lead to-
Increasing the visibility of your business
Increasing the trustworthiness and market share of your business
Increasing the website traffic
Increasing the number of returning customers
Increasing leads or sales
Generate profit margin
There are various different types of mechanism which are used in digital marketing for promoting businesses. ENSETT has hand-picked the most effective Digital strategies during coronavirus outbreak:-
Pay Per Click (PPC)
SEO
Content Marketing
Social Media Marketing
Video Marketing
Go live or Webinar
Influencer marketing
Let's learn one by one:
Pay Per Click (PPC): PPC is one of the most popular and effective methods of digital marketing. You can also include some great trends in present scenario like- Social distancing, Working from home, Home schooling, Family togetherness, Entertainment/ streaming/communications, Essential and medical services. In this process, the advertiser pays the publisher, when an ad is clicked. Usually, PPC is linked with first-tier search engines. If you are looking for a reliable digital marketing agency which can help you achieve your marketing goals through PPC, in that case, ENSETT is one of the best options available to you.
SEO- As per the survey conducted by com, it is found that SEO will be a primary focus for marketers during this pandemic. For business that is in loss, this is the right time to position them in the search result. SEO is the most valuable strategies which make business website visible in Google. The long-term benefits of SEO are enormous and you will be blessed to invest your money on it.
Content Marketing: Marketing and business promotion is all about playing with words and making the campaign more attractive and enticing for the audience. This is where content marketing comes into the picture. With engaging and interesting content, you can generate more hits on your website, which would result in more lead generation. ENSETT is one digital marketing agency in Bihar which can help you in meeting your goals.
Social Media Marketing: As far as social media marketing is concerned, social media platforms have played a very important role. They have offered you a space where you can get hold of millions of potential customers under the same roof. If you want to promote your business online, in that case, social media is one aspect which you cannot afford to ignore.
Video Marketing: In order to make things more attractive and engaging for the audience, video marketing is considered to be as one of the best tools. There are ample of scopes of using videos to make your internet marketing a successful one. When it comes to digital marketing services, video marketing is one of the most useful and effective tools to be used.
Go live or Webinar: Webinar or Go live is another very important feature of digital marketing services. It allows you to directly communicate with the audience and express your vision, company policy and speak your mind. Webinar is a relatively new concept to be used in the domain of internet marketing.
Influencer marketing: This is another very useful feature as far as digital marketing is concerned. It involves product placement and endorsements organizations and influencers.
You can implement above digital strategies to recover your losses in your business. If you are looking for recession proof marketing, then the digital world has it for you. It is recession proof marketing because, it involves considerably low amount of investment. Post coronavirus India, digital marketing is the only way out.
Remember what Michael Stelzner has to say about Online Marketing-
Get Updated With The Internet Marketing News/Insights/Post/Trends
Now you can get very informational information related to digital marketing, branding, SEO, Social media, Business directly in your mail. Just subscribe to our newsletter- Digital Scoop.
Digital Scoop in an effort to promote digital marketing awareness to individuals, Startup's, small businesses etc. We will provide latest digital marketing news, search algorithm news, digital marketing for small businesses, management insights, new ideas, digital analysis, digital success story, & many more.
One Last Request
Stay indoors and keep safe.