The globe has gone digital. Everything you need is just a click away. But what about you? Do you not need an effective SEO strategy to get more traffic and be visible online?
In this article, we shall be discussing the effective SEO strategy and all you need to know about SEO strategy in the forthcoming year.
What does SEO strategy mean?
SEO strategy is a plan of action to improve the visibility of a website or web page in search engine results. It involves techniques such as keyword research, content optimization, backlinking, and more, to help increase organic traffic from search engines.
It includes optimizing the website's content, structure, and user experience, as well as building an online reputation through link building and social media marketing.
What are the 5 effective steps for SEO strategy?
Optimize Your Website for SEO. 
Research keywords: Use keyword research tools such as Google Keyword Planner, SEMRush, and Ahrefs to help you find relevant keywords.
Create High-Quality Content: Quality content is important factor for SEO success. Create content that is relevant and keyword-rich.
Build Quality Backlinks: Building quality backlinks is an essential part of any successful SEO strategy. Quality backlinks are links from other websites that point to your website.
They are important because they help search engines understand the relevance and authority of your website. Quality backlinks also help to increase your website's visibility and rankings in search engine results pages. To build quality backlinks, you should focus on creating content that is valuable and relevant to your target audience.
Track Your SEO Progress: SEO progress can be tracked by using a variety of tools, such as Google Analytics and SEMrush. These tools allow you to measure a variety of different metrics, such as organic traffic, keyword rankings, backlinks, and more. Additionally, many of these tools provide insights into what changes you can make to improve your SEO rankings.
Utilize Social Media Platforms: Social media platforms such as Facebook, Twitter, and Instagram can be used to reach out to new customers and engage with existing customers. You can use these platforms to share promotional content, product updates, and special offers. Additionally, you can use them to monitor customer feedback and respond to inquiries in real-time
SEO prediction for 2023
By 2023, SEO will focus on more personalized content, AI-driven SEO automation, voice search optimization, and visual search optimization.
AI will continue to play a major role in SEO and content personalization, allowing marketers to better target potential customers and understand consumer behavior.
Voice search will become increasingly important as more people use virtual assistants to search for information, products, and services. 
Visual search optimization will also be essential as more people use their mobile devices to search visually. 
Finally, website speed and mobile optimization, along with structured data optimization, will remain essential components of SEO, as users demand fast, seamless, and relevant experiences.
SEO in digital marketing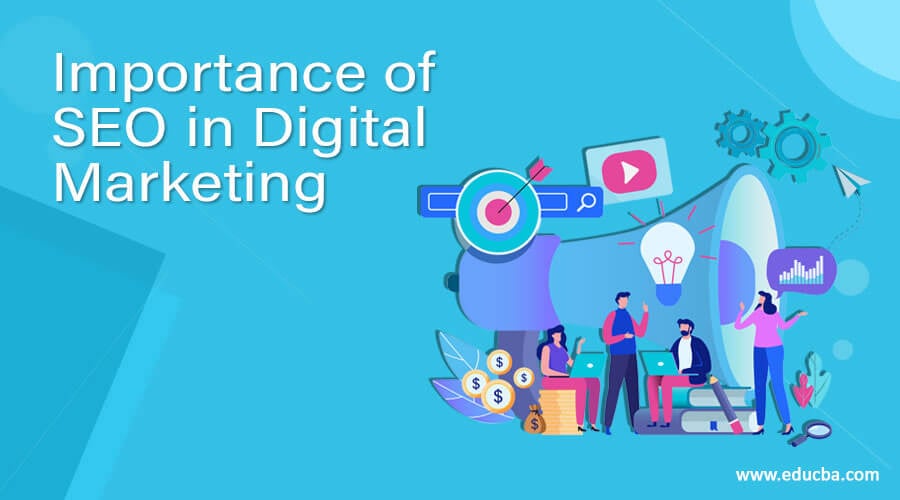 SEO helps to ensure that your website is seen by potential customers when they are searching for information related to your products and services.
SEO involves optimizing your website for search engine algorithms, optimizing content for relevant keywords, and building backlinks to your website.
By doing these things, you will increase your website's visibility and rankings in search engine results pages, which can lead to more website traffic and more customers..
On-page optimization vs Off-page SEO 
| | |
| --- | --- |
| On-page optimization  | Off-page SEO  |
| On-page optimization is the process of optimizing individual web pages to rank higher and earn more relevant traffic in search engines. | Off-page SEO is the process of optimizing the content and links that point to a website from external sources.  |
| This includes the optimization of content, HTML and other coding, images, and the internal link structure of the page.  | This includes link building, social media marketing, brand building, and other activities that can help build a website's reputation and rankings in search engines. |
Organic SEO techniques
Organic SEO techniques are used to increase a website's visibility in search engine results pages (SERPs) without paying for placement. This includes optimizing the website content, structure, and URLs, as well as building backlinks and improving the overall user experience. 
Organic SEO helps websites get found by their target audiences, which can lead to increased brand awareness, website traffic, and more conversions.
The organic SEO techniques are:
1.) Optimize Your Site for Organic Search

2.) Create and Share Engaging Content 

3.) Make Sure Your Site Is Mobile-Friendly

4.) Optimize Your Site's Load Speed

5.) Improve Your Site's Internal Linking Structure

6.) Focus on Long Tail Keywords

7.) Use Structured Data Markup

8.) Optimize Your Images

9.) Submit Your Site to Search Engines

10.) Monitor Your Site's Rankings and Traffic

Conclusion
SEO might look burdensome and confusing but it is an integral part of your business. Effective SEO strategy can do wonders for your business and page ranking and visibility.
A successful SEO strategy requires constant monitoring, testing, and optimization. 
It is important to remember that SEO is an ongoing process and that the best results will come from monitoring, testing, and optimizing your website regularly. 
If you want more of such valuable content, stay tuned with us.